Last October in Nairobi, Kenya, the Alliance for African Partnership formally transitioned from a Michigan State University-led initiative to an Africa-led consortium of nine different universities with a shared vision of transforming lives in Africa. For the first time since then, representatives from the founding AAP member universities convened in Gaborone, Botswana, for a full consortium meeting to make new connections, deepen partnerships, and advance the mission of the AAP.
Hosted by the University of Botswana in late May, the four-day meeting began with a welcome event at Mokolodi Game Reserve, just a short distance from Gaborone. After a short game drive, conversations over dinner, and a cultural performance by the Mokolodi community traditional dance troupe, attendees gathered around a large campfire and began sharing stories and folk tales from their countries. While the stories were all different, they contained familiar themes—respect, safety, community, memory—highlighting the fact that although the AAP members come from different countries and cultures, they are united by common goals.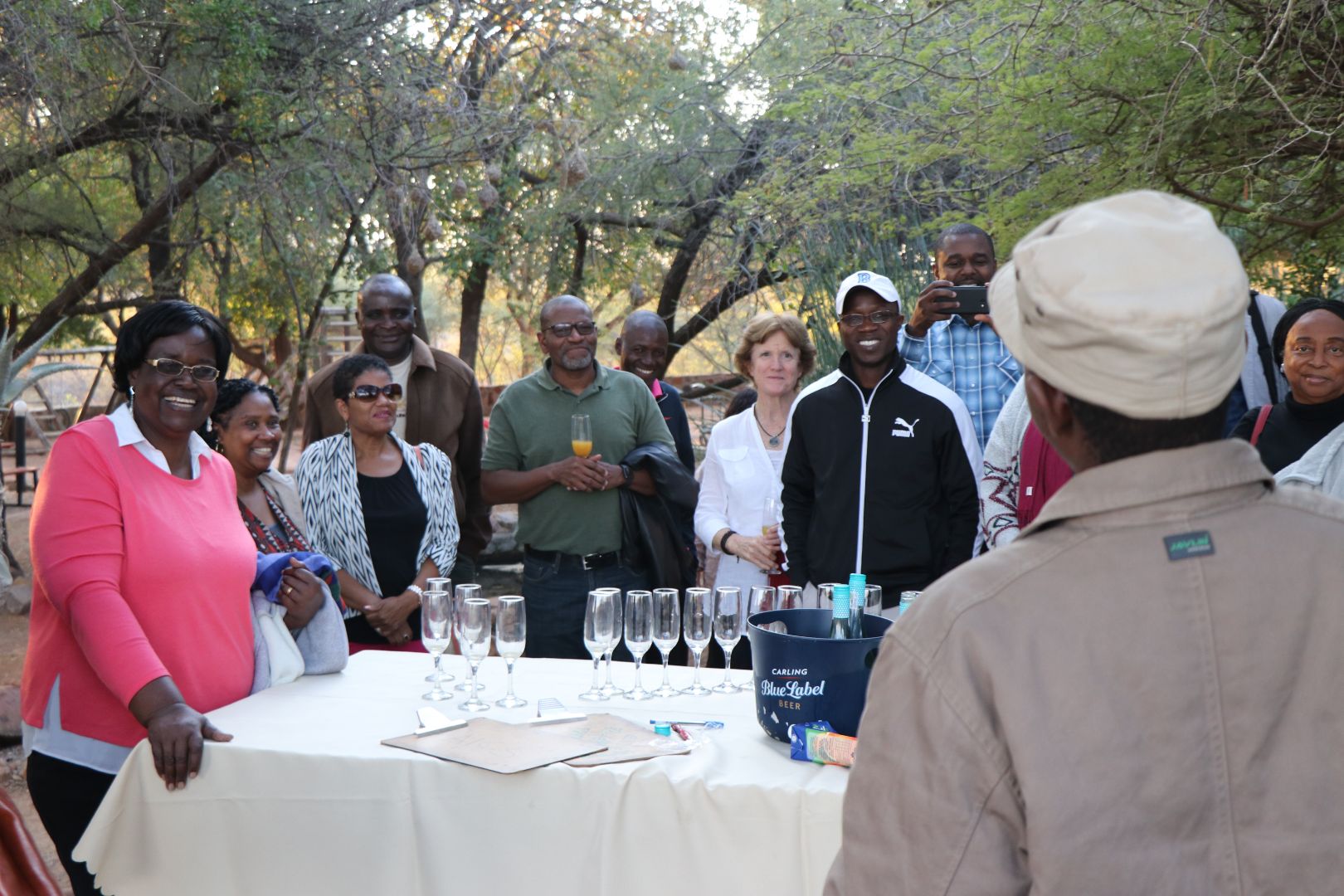 MSU Provost June Youatt told the story of Michigan State University's beginnings more than 160 years ago, emphasizing that the founding values of the university have remained constant—those of inclusion, access and opportunity for all. Values, she noted, that are infused into the work of the AAP. "While the Alliance for African Partnership may have had its start at Michigan State, it belongs to all of you," she said, crediting the growth of the AAP to the inclusive and collaborative work of the consortium. "And the AAP story is just beginning," she added.
Seeking Sustainability through Partnerships and Advancement
The first full day of the AAP meeting was dedicated to advancement and the growing need for new sources for university investment. As government and more traditional sources of funding become less reliable, universities must look to innovative partnerships and alternative funding methods to ensure sustainability for research and academic programs. A collaborative session for vice chancellors focused on high-level strategies for university administrators, developing priorities and setting the stage for fundraising while a simultaneous workshop for advancement officers focused on specific methods for setting up an advancement office, stewarding donors, and engaging with alumni.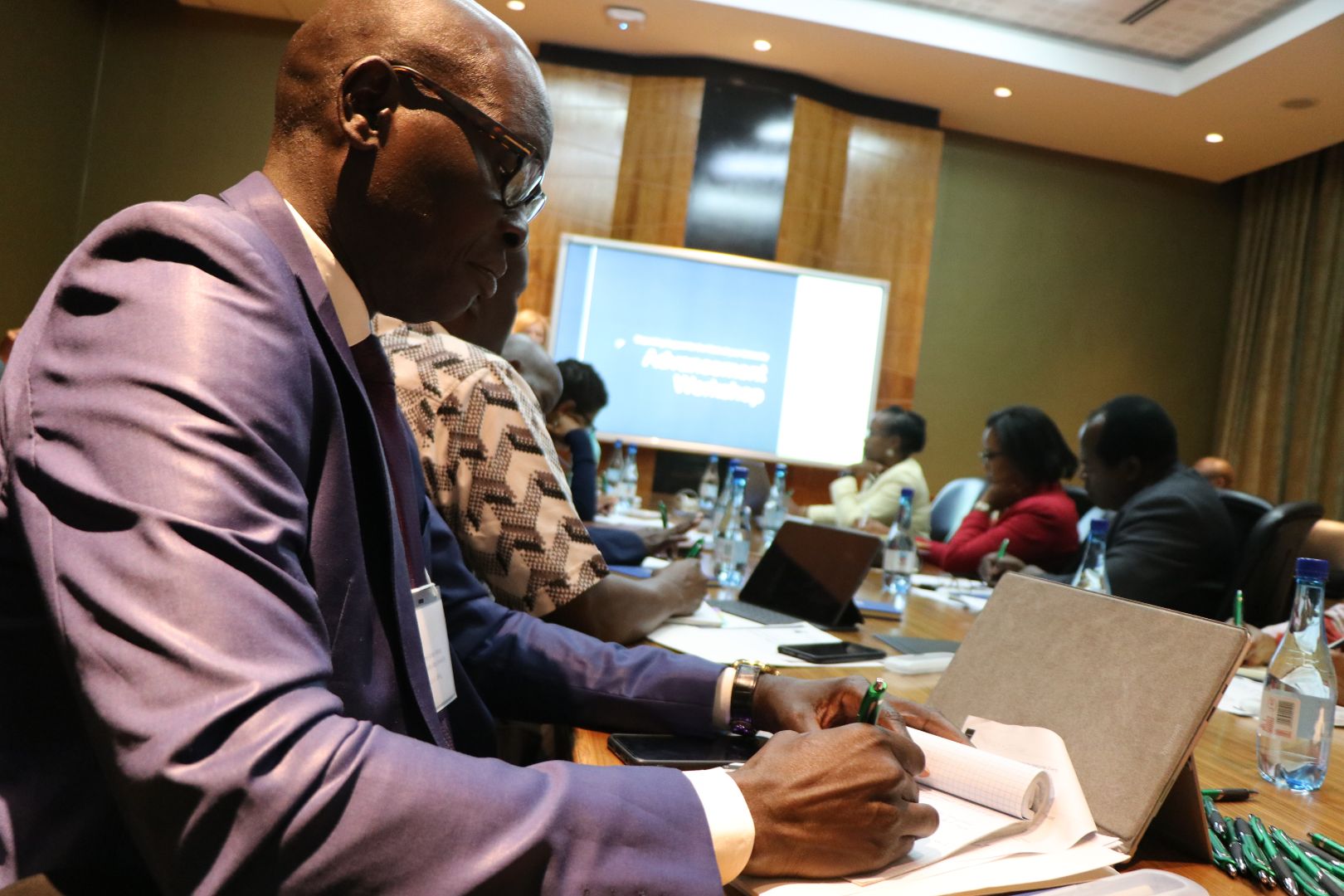 "The culture of giving in Africa is very strong," said Paul Zeleza, vice chancellor of United States International University–Kenya. "But it has yet to translate into giving to higher education institutions." He noted that individual philanthropy has typically been funneled to family or religious organizations and emphasized that universities must find a way to tap into that culture of generosity.
Establishing close regional partnerships was also emphasized as a strategy for growth and stability for higher education institutions. Consortium vice chancellors and their representatives attended a meeting with the Southern African Development Community (SADC), an inter-governmental organization that aims to further socio-economic, political, and security cooperation among 16 southern African nations.
"How can African universities engage regional bodies, forge strategic partnerships and be the thought leaders for national and regional development? This was the focus of our discussion," said Sarah Ssali, dean of the School of Women and Gender Studies at Makerere University in Uganda.
A Focus on Youth
Throughout their four days in Botswana, consortium members put a particular emphasis on the future of youth in Africa and how consortium members can support the next generation of innovators, entrepreneurs and leaders on the continent. This spotlight on youth was clear during a public forum on Investing in Youth for the Knowledge Economy, hosted by AAP in collaboration with the University of Botswana and Infers Group.
A packed auditorium filled with a wide range of attendees including young people, faculty, government representatives and diplomats, and members of the public, heard from a diverse panel of speakers who discussed ways to invest in Africa's youth to strengthen the future of the continent. Peggy Serame, permanent secretary in the Ministry of Investment, Trade and Industry, and Budzanani Tacheba, director of cluster development at the Botswana Innovation Hub, gave a joint keynote address, and additional speakers included Abraham Mamela, founder and CEO of Infers Group, Lorato Mwape, head of customer experience at Multichoice, Tebogo Lebotse-Sebego, chief communications and public relations officer at Mascom Wireless, and Leps Malete, professor of sport psychology at Michigan State University.
The speakers acknowledged that Africa is showing signs of significant progress and renewal, yet challenges remain. Chief among them is youth employment as tens of millions of young Africans enter the job market each year. This session focused on Botswana, an African nation that has shown prosperity and stability even as it faces challenges common across the continent, such as unemployment and poverty. Session presenters discussed strategies that the government, youth-owned enterprises, private sector, working with local and international universities can employ to support African countries as knowledge economies and create lasting impact for Africa's youth.
"We need to provide young people with an ecosystem that gives them the opportunity to create and talk about their innovations and find each other—this should be a starting point," said Mamela.
The AAP's emphasis on the next generation of Africa's research leaders is also supported by the newly launched African Futures Research Leadership Program, which will provide African early career researchers with a structured mentoring program to become scientific leaders in their communities to help solve Africa's challenges, and in turn train the next generation of African scholars. The first cohort of eight early career women researchers from AAP consortium universities will begin the program this fall 2019.
"In Africa, on average, only 30 percent of researchers are women," noted José Jackson-Malete, co-director for AAP's U.S. office. "The AAP's African Futures Program is designed to address this critical gap, and we are excited to support the next generation of African women scholars."
Visiting scholars in the program will spend one year at Michigan State University working with a mentor from MSU and a mentor from their home institution in research, curriculum development, and a structured academic development program covering subjects such as grant writing and manuscript writing. During the final two weeks of the program, they will travel to the University of Pretoria to participate in their Future Africa Research Leadership Program to strengthen their capacity in leadership. The ultimate goal of the program is to equip participants with the skills they need to develop and lead innovative research programs at their universities.
Pushing AAP Forward
As collaborations between members deepened over the stay in Gaborone, consortium members and the AAP board also tended to the business of the AAP, including further refinement of the consortium's governance and funding models, procedures for admitting new members, and the launch of a new AAP brand that reflects the AAP's Africa-centered, inclusive model.
The AAP's momentum shows no sign of slowing down, as the consortium looks to strategic growth and forging new partnerships. After the meeting closed, AAP leadership traveled to South Africa where they signed an agreement with the tenth consortium member to join the Alliance for African Partnership, the University of Pretoria. "As we grow the AAP, we are seeking members who share our partnership values of inclusion, equity, and transparency," said Richard Mkandawire, director of AAP's Africa office. "We are pleased to welcome the University of Pretoria as a member and look forward to the expertise and energy they bring to the consortium."