Mastercard Foundation Scholars Deepen Their Bonds of Friendship at Fall 2019 Retreat
On Saturday, September 14, 2019, the Mastercard Foundation (MCF) Scholars at Michigan State University gathered at the Eagle Eye Golf Club in Bath, MI for a Scholars' Retreat. The one-day retreat was designed to maximize intra- and inter-cohort interactions among Scholars, deepen the bond of friendship between Scholars and program staff, and equip Scholars with relevant life skills for their professional development.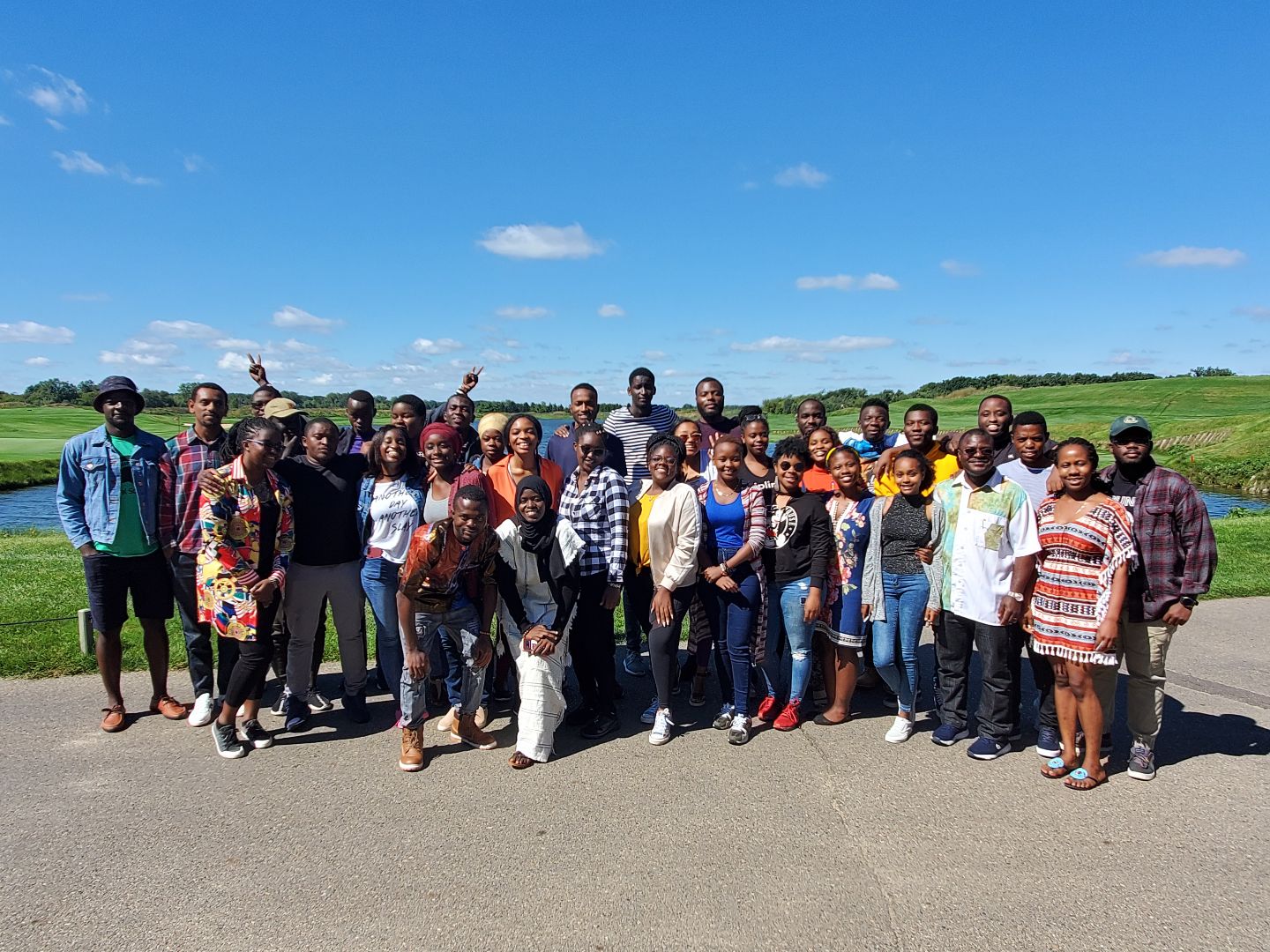 Scholars and staff began the retreat with words of wisdom from Dr. Chinwe Effiong, the Assistant Dean of Global Youth Advancement. She encouraged them to strive for coherence in all segments of their lives - a message which resonated well with many Scholars: "My biggest take away was the talk given by Dr. Effiong, and why it is important for us to be coherent in every aspect of our lives and in everything we do," one Scholar remarked when asked what impacted her the most during the retreat.
Following her remarks, Scholars were treated to a myriad of enriching activities and team building exercises that allowed them to determine their personality types, practice how to relate professionally with people with different personalities types in the workplace, set "SMART" academic and life goals, and reconnect with each other. A seasoned team of facilitators comprised of program staff, members of the Global Youth Advancement Network, and MCF Scholars facilitated the activities. The team urged the Scholars to not perceive one another as competitors, but instead as collaborators working together to advance pragmatic solutions to Africa's development challenges.
With a projected doubling of Africa's population by 2050, Sub-Saharan Africa is poised to undergo unprecedented demographic and social changes, which if inadequately addressed could exacerbate the employment, food security, and development challenges in the region. The magnitude of Africa's present and future challenges and the speed at which solutions are needed demands not only innovative and unconventional approaches but also greater collective efforts and cross-sectoral and country collaboration among Africans. In light of these trends, the team also expressed hope that Scholars would take advantage of their unique opportunities to network and lay the foundation for the desired future collaboration aimed at inventing African and global solutions.
Reflecting on their experiences at the retreat, Scholars were gratified by the space the retreat afforded them to reconnect with their fellow Scholars:
"I met a Scholar that I have never seen before, and that meant a lot to me. Spending the day with them allowed me to be more comfortable. On normal days, I will never dance in front of anyone, but I was able to break that barrier with them, which made our interactions a lot easier. I am conscious that I have to start making an effort to create more bonds with Mastercard Scholars."
"The Scholars retreat we had at Eagle Eye was full of positivity and I believe It gave each of us a moment to think about our personality and our goals. In addition, having a conversation about these topics with fellow scholars enabled us to get to know each other at a personal level. This retreat was also very much entertaining. It was a good reminder that we should not forget to have fun in the midst of busy schedule and several commitments we have in life."
"It was a well spent time away from the daily routine of classes and it gave me the opportunity to interact with other scholars that I do not meet very often."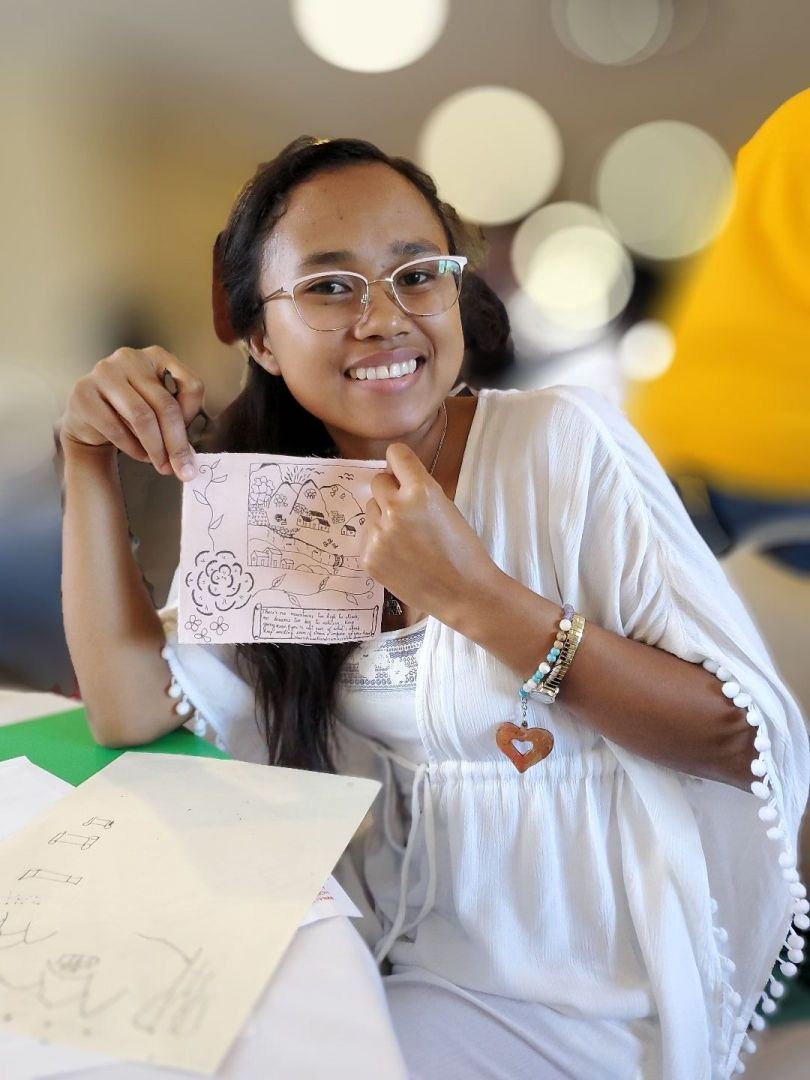 Others also shared how the retreat helped them to develop a sense of belonging and appreciate the diverse talents represented in the community of MCF Scholars: "…it helped me to get to know my fellow Scholars better. I feel like I belong more now!" Another Scholar added: "I got to appreciate the rich diverse community among fellow Scholars, and network with everyone."
In keeping up with the retreat's objectives, each Scholar was asked to decorate a piece of fabrics in ways that reflects their personality and how they feel about themselves. The individually decorated fabric pieces will be woven together into a tapestry that will be displayed at Scholars' program office at MSU. The tapestry will serve as an enduring visual reminder that, though every Scholar is a unique individual working toward greatness, they are an integral piece of a whole, being woven together into a beautiful masterpiece.