African Scholars Program Hosts Third Shark Tank of the Mastercard Foundation Scholars Entrepreneurship Fund Competition
The Spring 2020 edition of the Mastercard Foundation Scholars Entrepreneurship Fund (MCFSEF) Competition at Michigan State University was completed on Friday, March 13 with three finalists pitching their innovative business ideas for funding in a Shark Tank-style event.
The MCFSEF is an integral component of the Scholars entrepreneurship training at MSU that is designed to sharpen their entrepreneurial acumen, empower them to become catalysts for economic opportunities for others, and transformative leaders in their communities. It is supported through funds from the Mastercard Foundation as part of a larger initiative that supports MCF Scholars and alumni as they develop and implement viable, sustainable, and scalable business ideas that foster social and economic transformation in Africa.
Unlike previous editions, the budding entrepreneurs pitched their innovative ideas to a virtual audience due to precautionary restrictions related to the coronavirus pandemic. They were, however, joined in-person by a panel of judges made up of MSU Faculty, Directors of Entrepreneurship Programs at MSU, and a previous recipient of the MCFSEF award. The three finalists pitched their ideas ranging from introducing new technologies to boost productivity in the vanilla industry in Madagascar, a mobile clinic to alleviate access to health care services in Gambia, to an app educating Rwandan youth about mental health and available resources to cope with mental health challenges. Each contestant detailed how their business idea will make a social impact and create economic opportunities within their communities.
The panel of judges and non-contesting MCF Scholars in the virtual audience evaluated the pitches based on the clarity of pitch, innovativeness of the idea, the impact threshold, viability of the business, sustainability of the venture, and the time used for the presentation. They also provided Scholars with thoughtful feedback and among other pieces of advice, encouraged them to never give up in their pursuit to actualize their innovative ideas and strive to use constructive feedback as springboards to further develop themselves.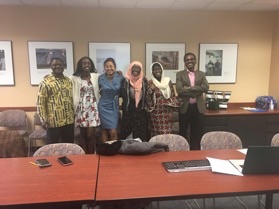 Ultimately, all the three finalists received funding for their businesses. Ms. Narindra Randriamiarintsoa was awarded $5000 to launch a start-up in Vanilla farming in Madagascar while Ms. Nyimasata Danjo and Ms. Teta Ukundwa received $3000 and $1000 for their respective enterprises. Reflecting on their participation, the Scholars were gratified by the meaningful experiences and boost in confidence that the competition afforded them. For Narindra, securing an award from the MCFSEF was a dream come true and a befitting reward for her perseverance after two unsuccessful attempts in previous editions:
I submitted my application in Fall 2018, but I didn't make it to the final competition because my business plan was not clear. I applied again in Spring 2019 but got rejected for the second time. My business plan was always the problem. In Fall 2019, I enrolled in an entrepreneurship class to learn how to elaborate a successful business model, despite knowing that it will increase my workload and might affect my GPA. I then re-applied for the MCFSEF competition. This time, I was more knowledgeable about my project, and I felt more confident about what I was doing. With the help of my team along with the feedback and comments from the judges along the process, I won first prize in the competition. It was a dream come true. This experience has taught me that perseverance always wins. It reminded me that working towards a dream is not an easy path.
- Narindra Randriamiarintsoa
Teta also shared how the competition helped her to overcome her fears of public speaking.
"Participating in MSCFSEF is one of the best decisions I have made so far. It pushed me to face my fears, work on a project I really care about, and make some meaningful connections. Thank you MCF for the opportunity."
- Teta Ukundwa
Her sentiment was echoed by Nyimasata who was grateful for the personal growth the rigorous review process provided her.
"My participation in the MCFSEF has offered me a growth ladder in the inception of my entrepreneurial idea because of the positive feedback of several reviewers and the well-thought questions that were asked of me. These questions, though challenging at times, put me in an uncomfortable position that pushed me to think more precisely and smartly about my idea. At the end of the competition, I have achieved another level of experience in confidence and pitching a business idea."
- Nyimasata Danjo
Similar to previous recipients, each of the finalists will continue to receive coaching and mentorship from members of the Global Youth Advancement Network and entrepreneurship units across campus to successfully execute their business plans.