NASA funds international team of MSU and African institutions for global carbon research in trees outside of forests
The NASA Land-Cover and Land-Use Change Program (LCLUC) has awarded $650,000 to a team of researchers from MSU and six African institutions for a project that will examine the role that trees outside of forests play in storing carbon.
The project, led by MSU's Department of Forestry Global Observatory for Ecosystem Services (GOES) lab, is a collaborative effort that includes Lilongwe University of Agriculture and Natural Resources in Malawi, the government of Malawi, the University of Pretoria in South Africa, Future Africa, Cheikh Anta Diop University of Dakar in Senegal and the government of Senegal.
The multidisciplinary and multi-country project team brings key regional expertise, a wealth of existing data and African organizational linkages important to the success of the project.
Low density, high carbon impact
Entitled Hotspot Detection for Monitoring New Trends in Carbon Sequestration in Systems of Trees Outside of Forests, the project aims to examine a potentially significant, but poorly documented or understood carbon sink, which in this case, is a natural reservoir for carbon to be stored indefinitely.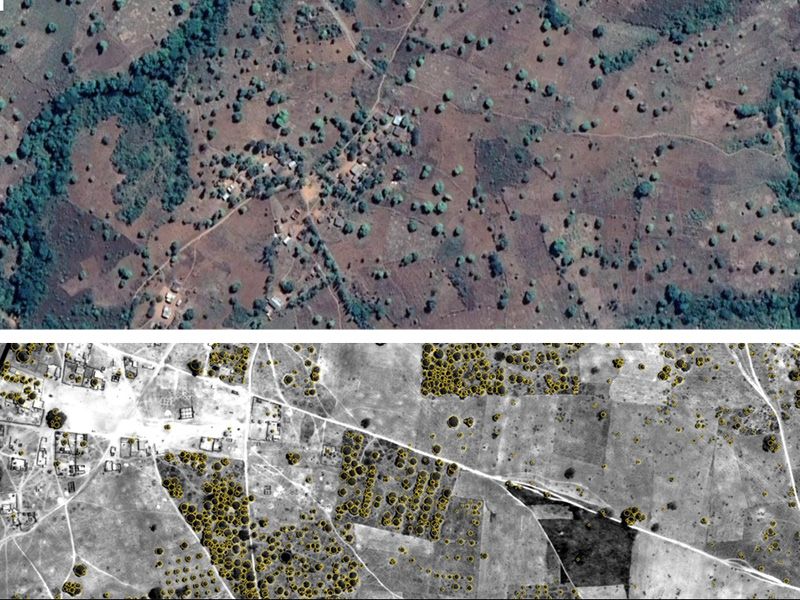 Trees outside of forests—or TOF—have been largely ignored by most earth observation analyses because carbon stocks are relatively low and tree density is sparse. Rather, the focus has been on trying to quantify and understand tropical deforestation in the high biomass/high carbon systems like the Amazon, Central Africa or Indonesia, which are home to the dense, big rainforests of which the public is highly aware. And they are important, according to the GOES team, because of the high levels of carbon emissions resulting from clearing.
However, because the land area covered by TOF systems is expansive, an increase in the number of trees or productivity of trees can be significant to the balance of the global carbon budget. Carbon sinks like TOF keep carbon dioxide in the atmosphere at manageable levels.
"What's really important about that is that the TOF cover large areas," said David Skole, project lead, professor of climate change, earth observations and member of the GOES lab. "What we're finding is all over Africa, for instance, there is a lot of biomass, although at lower density and scattered amongst these individual trees that are on farms."
In these woodland, savanna and agroforestry systems, the land is so extensive that the carbon per unit area multiplied by the land area becomes an important number, according to Skole. The project will use earth observation satellite image data to map TOF landscapes in West and East/Southern Africa to estimate the area today, as well as examine its trend and future potential.
Another issue the project intends to explore is the very direct relationship between the TOF systems and the livelihoods and well-being of farming families, who have incomes supported by the farmed trees.
"The question is important because of the potential large area in African semi-arid lands that currently support TOF, which could be increased through policy and economic development interventions," said Skole. "Furthermore, TOF systems can have significant benefits to local communities through agroforestry and other tree-based production systems that bring higher economic returns to local livelihoods and enhanced environmental benefits for land restoration."
"TOF systems can have significant benefits to local communities through agroforestry and other tree-based production systems that bring higher economic returns to local livelihoods and enhanced environmental benefits for land restoration."
Empowering international partnerships
The project and partnership was initially supported by seed funding provided by the Alliance for African Partnership (AAP) through its transforming institutions grants. The AAP is a consortium of MSU and ten leading African universities committed to working in equitable partnership to transform lives and address global challenges.
"The AAP seed funding facilitated the launch of the project," said Skole. "It allowed us to effectively strategize on what the needs were of our international partners, what our needs were at MSU and where the synergy was—which developed a framework for the research."
The goal of the AAP transforming institutions grants is to empower institutions to participate in sustainable, equitable and research-driven partnerships that make a broader impact on transforming lives. Seed funding is intended to develop international strategic partnerships with universities, institutions of higher education and research, and/or organizations in the public or NGO sectors.
"The TOF project is an excellent example of collaboration across the AAP consortium member universities," said Amy Jamison, AAP co-director. "It highlights the mutual benefits of equitable partnerships through active engagement from both MSU and our partners across Africa."
NASA's LCLUC is an interdisciplinary scientific theme within NASA's Earth Science program. The ultimate vision of this program is to develop the capability for periodic global inventories of land use and land cover from space, to develop the scientific understanding and models necessary to simulate the processes taking place, and to evaluate the consequences of observed and predicted changes.
To learn more about the TOF project, visit goeslab.us/trees-outside-of-forest.html.