EcoCiclo, a 100% biodegradable disposable sanitary pad, is developed and produced by Brazilian women in vulnerable situations. It is the first practical and sustainable option manufactured and sold in the country. EcoCiclo achieves the dual accomplishment of reducing the environmental impact of common absorbents and preserving the health of women who are exposed to allergens from petroleum derivatives and other toxins that are frequently found in traditional absorbents.
The sanitary pad developed by EcoCicle has three layers in its composition, each with a technological base that helps to transmit the soft sensation of the pad, ensure efficiency and fast absorption capacity, and boost its impermeability. It was designed for comfort, practicality and even distribution of fluid.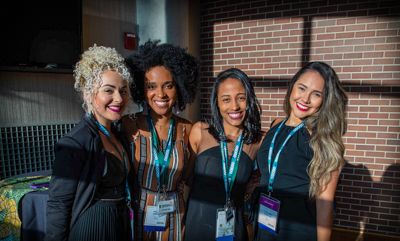 As a hybrid socio-economic initiative, the venture employs women in vulnerable situations with several objectives including increasing women's representation and access to the labor market; providing professional development opportunities; offering transitional jobs that help women obtain an education; helping women see a way out of their vulnerable situation; and making dreams come true with the support of an established women's network. The business model focuses on selling the product through other women, which helps reduce the stigma and brings comfort at the time of purchase while generating extra income for families.
EcoCiclo believes that a truly sustainable businesses model is one that holistically takes care of people that it employs. In addition to teaching employees how to produce the sanitary pads, the company simultaneously trained hundreds of women in entrepreneurship, marketing, communication and sustainability. As a result of that process, they have built a network of women entrepreneurs that manufacture a wide range of sustainable products in other sectors. Production of the absorbent pad was merely a starting point that led EcoCiclo to identify and assist women entrepreneurs who did not have access to proper business tools.
Eventually, EcoCiclo developed a marketplace platform in partnership with the Inter-American Development Bank (IDB) to automate the sales process and provide business intelligence to their network. The platform allows women to sell their products with the infrastructure and security of an online shopping store. They also have access to mentorship in entrepreneurship, sales, marketing and logistics at no cost. In addition to being able to rely on market intelligence, the Business Intelligence resource synthesizes data collected on the platform to help the entrepreneurs receive specialized guidance for optimizing their virtual stores. This information is used to develop strategies to increase revenue, reduce costs and find additional business opportunities.
MSU has collaborated with the founders of EcoCiclo since 2019, when they attended the inaugural Global Youth Advancement Summit to showcase the social business venture. The university's Global Youth Advancement Network continues to mentor and work with the organization to help scale their solution for a sustainable feminine hygiene product and women's empowerment initiatives in Brazil.