Empowering Women in Higher Education: Senior Women Leaders from Pakistan Reflect on their MSU Experiences
The first Pakistan Women Leadership in Higher Education program was a successful collaboration between the Visiting International Professional Program and the College of Education International Programs
In September 2022 the Visiting International Professional Program welcomed 25 women leaders in higher education to Michigan State University for Pakistan Women Leadership in Higher Education, a two-week leadership development program which is part of a two-year U.S. Department of State funded project aimed at addressing the equity gap in women's higher education leadership in Pakistan. The 25 women were part of the senior leaders cohort, a diverse group of accomplished senior women in higher education, representing a variety of disciplines from institutions across Pakistan. The project is the result of a close collaboration between VIPP and the MSU College of Education International Programs.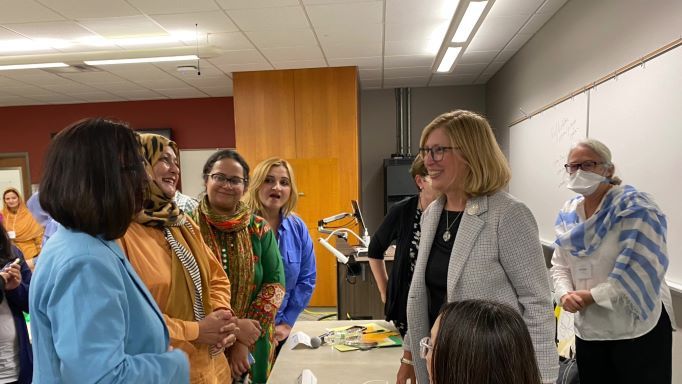 The senior leaders cohort enjoyed the opportunity to explore leadership topics, share knowledge and perspectives, connect with their MSU counterparts, and address unique challenges faced by women leaders. A highlight of the program was a panel discussion with some of MSU's own distinguished women leaders including Dr. Teresa Woodruff, MSU interim president (then provost), Dr. Melissa Woo, executive vice president for administration, and Dr. Lisa Frace, senior vice president, chief financial officer and treasurer. These inspiring women shared stories of their career paths and how a passion for service led each of them to a career in leadership in higher education. Cohort members appreciated that not only were women leaders featured in the program, but that the program itself demonstrated the work of women in higher education.
Other highlights of the program included attending a lecture on Palestinian history and politics by the renowned scholar and speaker Nizar Farsakh from The George Washington University, a meeting with U.S. Representative Elissa Slotkin, and a panel discussion hosted by members of the senior leaders cohort themselves to share their ideas about issues facing higher education in Pakistan, as well as the important progress being made. The panelists discussed a range of topics including the importance of women in strategic decision-making, government education initiatives, training and mentorship, the importance of cultural exchange, and ways to promote gender equality in leadership positions.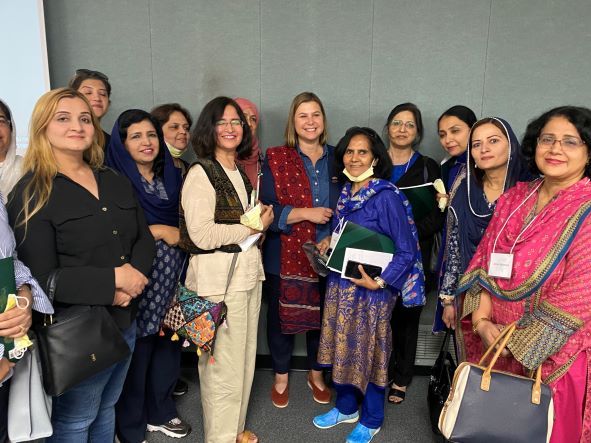 VIPP recently had the chance to talk to two of the senior leaders, Dr. Anoosh Khan and Dr. Ambreen Usmani after their return home to hear their reflections on the program, their thoughts on the future of women leadership in higher education in Pakistan, and their ideas for change going forward after this unique experience at Michigan State University. Dr. Anoosh Khan is Chair of the Department of Gender Studies at the University of Peshawar, and Dr. Ambreen Usmani is Dean of Health Sciences at the Bahria University Medical and Dental College Karachi-Pakistan.
What impact did your experiences in the Pakistan Women Leaders in Higher Education program have on you and the other members of the senior leaders cohort?

Dr. Khan: For myself the program added to my confidence in myself as a potential leader, and made me realize how leadership is a skill not a position! It provided a platform for networking with other leaders in Pakistan and at MSU and made me more conscious of diversity, equity, and inclusion.
Dr. Usmani: We experienced that individuals from different walks of life can find commonalities. Being a medical doctor it was difficult for me to relate to social sciences and humanities as well as engineering faculty but with the passage of time we found common grounds in studying leadership which is almost the same in all disciplines.
What was something you learned during your time at MSU that you would like to try to implement in Pakistan?

Dr. Khan: As a scholar and academic I would like to network more and try to formally introduce mentorship. As an educator, I was conscious about diversity and inclusion but earlier I was very mindful of equality. I knew what equity was but never quite thought about it consciously as I have started doing now. As a leader I would like to implement, among other ideas the use of organizational frames (as presented by Dr. Julie Sinclair) for better assessment.
Dr. Usmani: The learning style and the conducive environment created by the facilitators, and the online workshop with Dr. Shannon Lundeen and activities given during the workshop were something new that I would like to apply here at Bahria University Medical and Dental College-Karachi-Pakistan.
What do you view as the biggest challenge facing women leaders in higher education in Pakistan?

Dr. Khan: The biggest challenge for women in higher education is to actually make it to leadership and
decision-making positions.
Dr. Usmani: Mostly the challenges are faced at home where parents and other family members do not think it is necessary for women to study at all in Pakistan. This mind set needs to be addressed and awareness must be created so that the upcoming generations do not face these difficulties
One area that was a focus of discussions during the program was the importance of mentorship for women. What have been your experiences with mentorship in Pakistan, and how do you plan to implement mentorship opportunities?

Dr. Khan: In Pakistan we have mentors, both professional and non-professional, but it is a very informal arrangement. My experience as a mentor and as a mentee have been beneficial on many levels and led to long term relationships. What I have in mind is first to talk to the university administration to mainstream the idea systematically, with a proper policy. However, in order to have certain policies our universities have to get them approved by various statutory bodies which can be a time consuming process. Secondly, at the least, I can try to formally introduce the idea at my department.
Dr. Usmani: I personally have a rich experience of mentorship at the undergraduate level as the mentoring program is an integral part of our system at my institution. However, mentoring for faculty and those sitting in [positions of responsibility] is a relatively newer concept as we have always thought that once you reach a certain position, mentoring is no more required but after attending the sessions with various panelists I realized that we all need mentoring irrespective of where we are placed.
How do you think women in positions of leadership can best support other women?

Dr. Khan: Encourage and support them professionally and personally; when and if possible provide opportunities for professional growth, and continue to be the role models to encourage, include, and support other women.
Dr. Usmani: The concept of "lean on me" must be implemented. We must support each other from the most minor issues to the major ones. This support should not end in the workplace!
Was there anything that you found especially surprising or eye-opening from an academic, leadership, or cultural perspective during your time at MSU?

Dr. Usmani: The academic working environment and the concept of community college where students are taught skills with 100% employment was indeed an eye opener.
Dr. Khan: What I found really fascinating and sweet was that most of the panels, seminars, and workshops had women leaders and academics. I thought this was such a practical example of both networking (among women academics and think-tanks) and mentorship.
What message would you like to share with aspiring women leaders?

Dr. Khan: Work hard; be consistent; network and support other women; and "just do it!"
Dr. Usmani: Never give up! Keep trying and it is not impossible to attain your goals.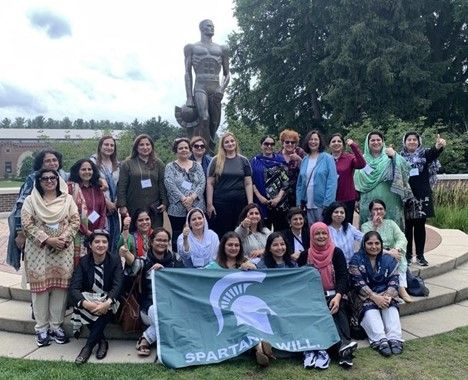 VIPP is proud to have hosted this extraordinary group of women leaders who will use the strategies they have learned during their time in the program to do great things in their work as scholars and academic leaders, as well as to continue building leadership opportunities for women in Pakistan. The Women Leaders in Higher Education program continues with the recruitment of the aspiring leaders cohort.
Learn more about the program at vipp.msu.edu/leaders.