MSU Hosts Youth Sports Symposium
A team of researchers from Michigan State University and flagship universities in three regions of Africa—the University of Botswana, the University of Dar es Salaam, and the University of Ghana—have completed a study of youth sports which offer a compelling roadmap for ways in which well-structured sport-based programs could be used to nurture entrepreneurial mindsets, life skills and other youth development outcomes reported in previous studies. To celebrate and conclude the research project, MSU's Institute for the Study of Youth Sports (ISYS) and Global Youth Advancement Network (GYAN) hosted the Youth Sport and Sustainable Development symposium, convening university experts, community partners, and young practitioners to share experiences and reflections on youth entrepreneurship and innovation through sports.
"It was an eye opener seeing how factors such as resilience and perseverance, both critical antecedents for sports performance, are also associated with performance in other spheres of life, such as entrepreneurship."
—Dr. Gaofetoge Ganamotse
The symposium, made possible with funding from the Alliance for African Partnership, African Studies Center, and Office for Institutional Diversity and Inclusion, featured presentations by faculty and youth representatives from ISYS affiliated programs and included several field visits to youth sport and entrepreneurship-related organizations. The event enabled the research team to disseminate findings from the project to a much broader audience that included the MSU campus community, youth from participating countries, organizations running similar programs in the greater Lansing and Detroit, and other regions of the world including the Dominican Republic. According to Dr. Tshube Tshepang, a Senior Lecturer and Faculty member at the University of Botswana, the week at MSU also "accorded us an opportunity to reflect on the project and find effective ways of being more impactful to our communities." For example, he notes one takeaway from the symposium is for the project to consider focusing on one school, possibly in each country, for more impact.
In addition to the research-specific presentations and learning, there were several additional benefits of the week-long event at MSU. "The motivational presentation by W.E. DaCruz and the social enterprise by the Kenyan Youth were my key highlights" said Dr. Gaofetoge Ganamotse, a researcher and professor at the University of Botswana. "It was an eye opener seeing how factors such as resilience and perseverance—both critical antecedents for sports performance—are also associated with performance in other spheres of life, such as entrepreneurship." Others made note that the location of the symposium, MSU's new state of the art interdisciplinary STEM Education building, fit in well with their vison for global engagement and sustainable development. They were inspired with new ideas by the efficient use of space for gainful student interactions in the STEM building.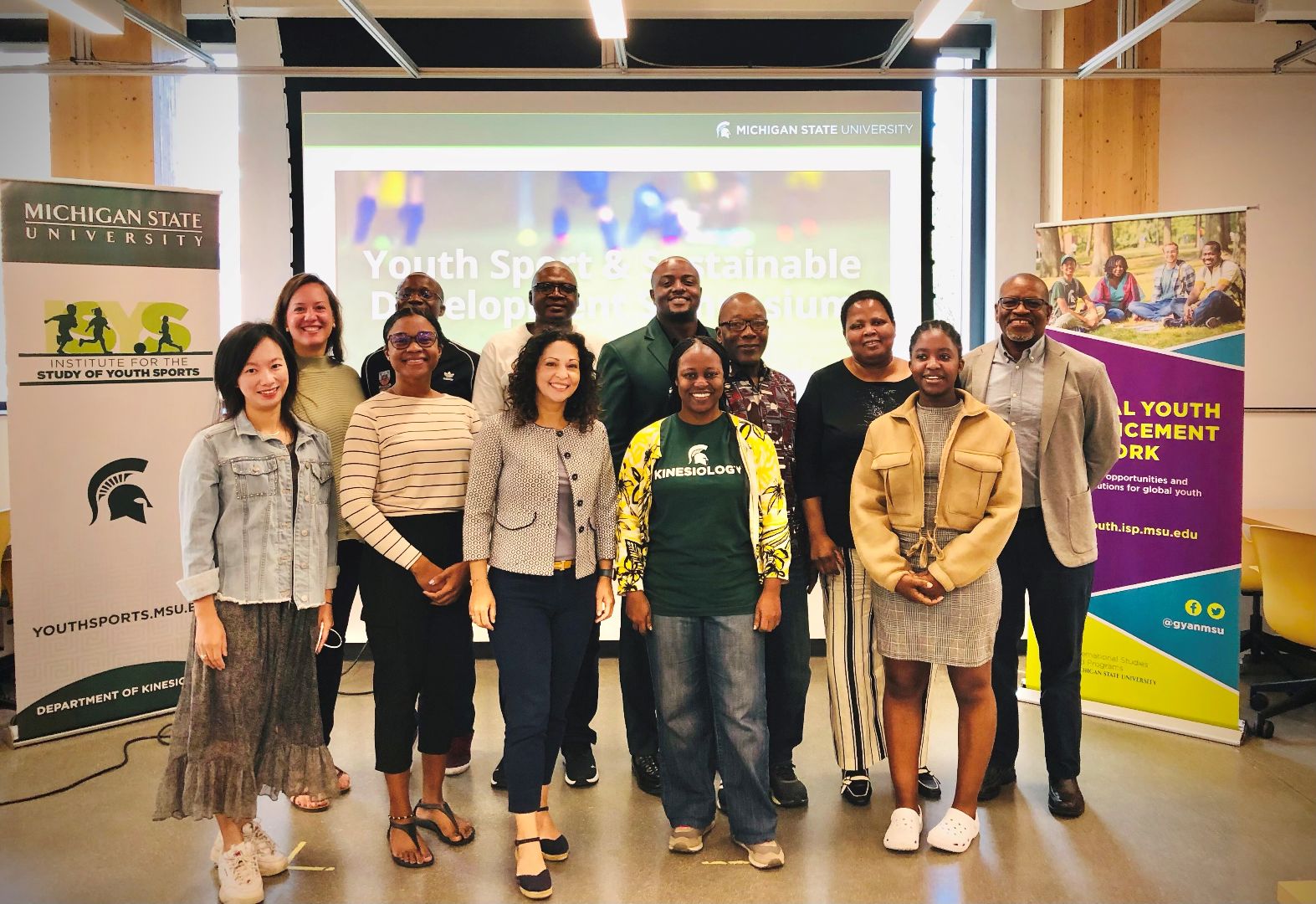 The research project was achieved thanks to a grant from the Alliance for African Partnership (AAP), a consortium of leading universities and research institutes that work in equitable partnership to transform lives and address global challenges. As the Principal Investigator on the grant, Dr. Leapetswe Malete noted that this line of work takes time, participation from multiple stakeholders, and requires a lot of resources. "Youth sport and physical activity offer an excellent platform to launch various youth development initiatives that deserve serious attention. Investment in youth development addresses several SDGs and remains key to Africa's economic transformation." On the mission of equitable partnership, Malete emphasized the importance of the four partner universities working together. "This is significant in terms of developing context-specific and cross-cultural perspectives on youth development…The partners were intentionally selected from different disciplines including, sport and exercise psychology, entrepreneurship, community sustainability, business, and pedagogy in order to enable the team to address the interdisciplinary research questions that our project sought to investigate."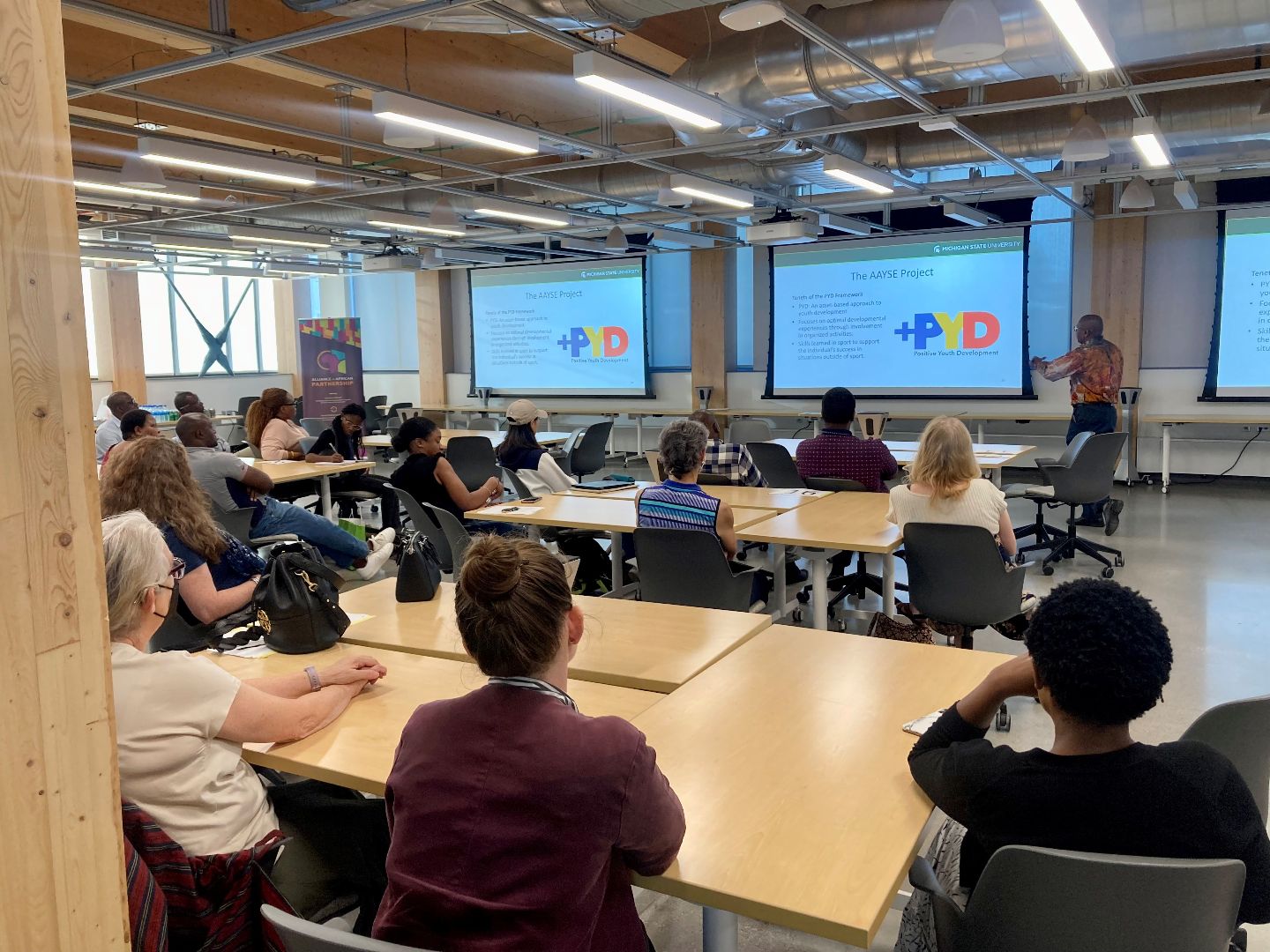 The group's research findings confirmed that sport and physical activity-based life skills programs are excellent conduits for nurturing youth entrepreneurship and other development outcomes. In line with GYAN's mission, their research is also a powerful tool for enhancing youth voice and youth assets, which is a key component of sustainable development in Africa and the rest of the world. To continue contributing to youth solutions, several of the researchers note that additional work is required in order to apply the research for maximum benefit. Professor Reginald Ocansey from the University of Ghana shares, "I would like to see more robust monitoring and surveillance systems in place to foster continuous assessment of the developmental impact of the AAP program on participants, both trainers and students, across the life-cycle" emphasizing that entrepreneurial behaviors are important life-skills that require longer term monitoring to ensure sustainable growth and development. Tschepang added that further engagements with policy makers, government, and regional structures are critical to advancing the work and promoting positive youth development while Ganamotse notes that additional joint funding proposals are key to scaling the project to new schools and communities.
More information on the group's research can be found in their publication: Effects of a sport-based positive youth development program on youth life skills and entrepreneurial mindsets